About a year and a half ago, a survey has been conducted evaluating endpoint adjudication adoption in the clinical trials industry. We discovered that professionals were not up to speed on eClinical eAdjudication solutions, and those that did not adopt eAdjudication solutions experienced operational issues with executing endpoint adjudication activities.
This year, The Clinical Endpoints Adjudication Group and Ethical Clinical designed and implemented an industry survey with the purpose of evaluating factors that drive the use of endpoint adjudication in clinical trials. In this article, we will report on industry trends from CBI's 3rd Annual Endpoint Adjudication Event, and will analyze the Endpoint Adjudication Survey results.
Update on Changes in Endpoint Adjudication

At CBI's endpoint adjudication conference, there were perspectives indicating that endpoint adjudication is necessary when the study's endpoint is subjective, definitions are complex, there are regional variations, inexperienced investigators, and if regulatory authorities required it. While endpoint adjudication reduces bias, decreases data variability, improves quality, and identifies missed events, the process also increases study costs, and adds complexity (especially with source document management and transfer). There was also discussion that emphasized the importance of linking endpoint adjudication to studies' primary objectives, and that the use of endpoint adjudication can enhance efficacy outcomes assessments in study data analysis. Moreover, there was discussion on the importance of endpoint adjudication oversight through key performance and risk indicators including disagreement rates, monitoring adjudicated eventsevents, and reviewing event timelines. What was clear is that endpoint adjudication cannot be efficiently executed without the use of eAdjudication technology.
Endpoint Adjudication Survey: Respondent Demographics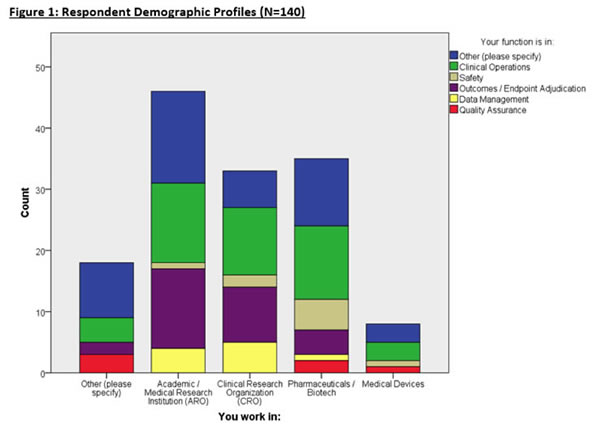 A total of 67 respondents participated in the endpoint adjudication survey. Figure 1 demonstrates that the largest proportion of respondents suggested that they are exposed to cardiovascular, oncology and CNS therapeutic indications. Figure 2 illustrates that Clinical Operations, Outcomes/Endpoint Adjudication and Clinical Science functions represented the majority of the sample, and Figure 3 shows that Biopharmaceutical Enterprises, CROs and AROs also represented the largest proportion of the sample size. The majority of the respondents (69%) have been involved with endpoint adjudication, 28% have, and the remainder (3%) plan to get involved in the future.

Trends on Involvement with Endpoint Adjudication
We dug deeper into the data to evaluate statistically significant relationships between factors involving trends of who is using endpoint adjudication in clinical Trials,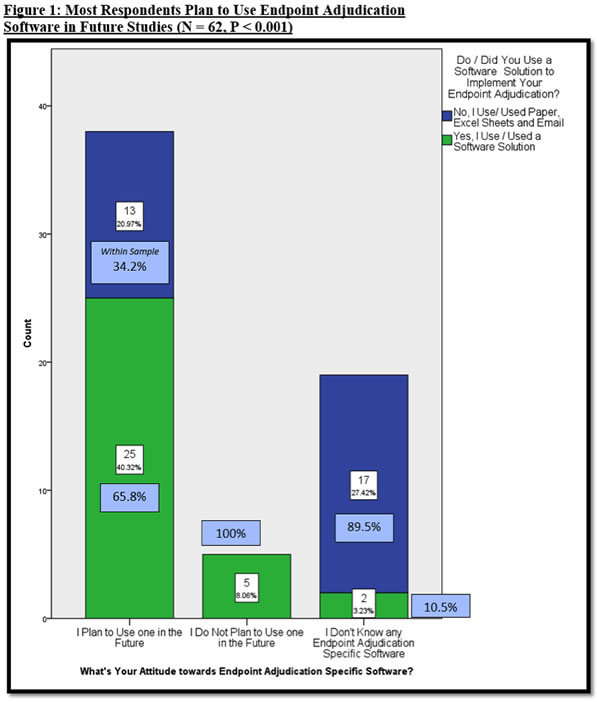 [... ] see below for full-text download.

Influences and Challenges Behind Endpoint Adjudication Adoption
[... ] see below for full-text download.

Impact of ICH-E6 Addendum on Endpoint Adjudication
[... ] see below for full-text download.

The Need for eAdjudication Technology
[... ] see below for full-text download.
DOWNLOAD THE FULL-TEXT ARTICLE AND FIGURES