We recently published initial results from the Endpoint Adjudication Survey (designed by The Endpoint Adjudication in Clinical Trial Linkedin Group and Ethical) and results have shown that endpoint adjudication technology solution adoption is widespread, however, personnel experienced cultural challenges with executing endpoint adjudication with technology solutions.
This second article will focus on (a) understanding how functions and organization types feel regarding continued use of endpoint adjudication solutions, (b) uncovering organization types and functions that have not been exposed to endpoint adjudication software, and (c) differentiating behaviors between Excel-based and endpoint adjudication technology system users.
Endpoint Adjudication Software: A Want by Most Executives

It is clear that most executives want to use endpoint adjudication specific software, according to the survey. When respondents were asked about their plans on using endpoint adjudication software, most have indicated that they plan to use one in the future (Figure 1).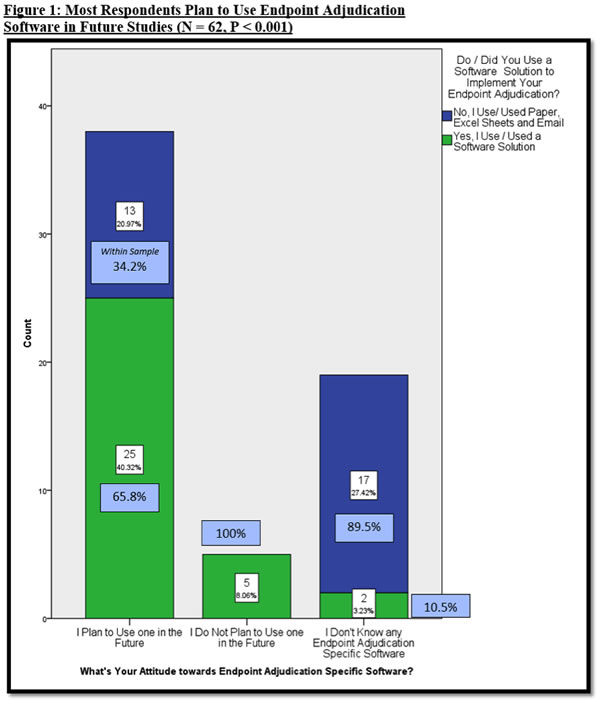 Figure 1 unveils an interesting trend; approximately 43% (13) of those who use traditional tools (i.e., Excel, email, etc.), plan to use an endpoint adjudication specific software in future studies, whereas the remaining 56% (17) of traditional users (representing 27% of all respondents) have not heard of endpoint adjudication specific software. This trend may suggest that there is a large group of traditional users who are not aware of endpoint adjudication specific software, and traditional users who are aware of software solutions are more likely to use them in future trials.
There are Organizations and Functions who are not aware of Endpoint Adjudication Software
Given the aforementioned findings, we delved deeper into the data to specify organization type and function behavior and attitudes towards endpoint adjudication software. Figure 2 illustrates that most organizations plan to use endpoint adjudication specific software in future clinical studies, with the majority of known organizations in pharmaceuticals (with a 68.4% rate), followed by Academic Research Organizations (at 61.1%), and CROs (at 57.1%). When analyzing those who do not know of any endpoint adjudication specific software, Figure 2 insightfully reveals that CROs exhibit the highest rate of not knowing that endpoint adjudication software exists (at a 42.9% rate), followed by pharmaceuticals (31.6%), medical device companies (25%), and AROs (22.2%).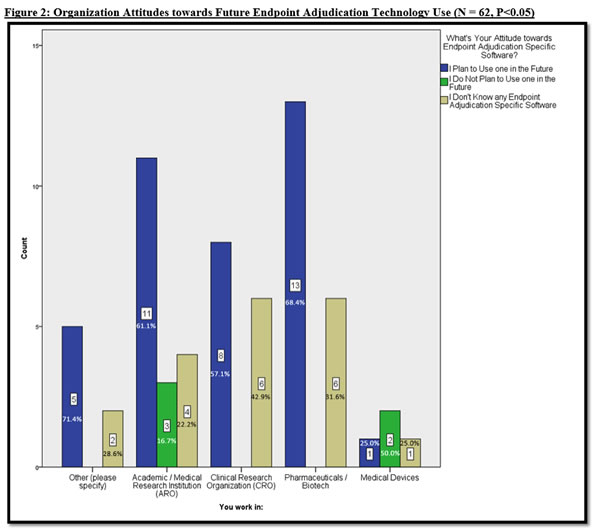 [... ] see below for full-text download.


DOWNLOAD THE FULL-TEXT ARTICLE AND FIGURES